Recovery from High-Demand Church

Recovering from the effects of spiritual betrayal and abuse is not easy or quick, but it is possible. Here is a nutshell perspective on recovery by a former member and leader in the International Church of Christ. Professional counseling with someone trained in cult issues is recommended; a week or two at Wellspring Retreat would be ideal.
Note: This site uses the terms "cult" and "cultic" in reference to how a group functions, not its beliefs. For more about the use of the "C" word, read here ».
---
Excerpts from Recovering From Churches That Abuse, by Dr. Ronald Enroth, summarizes the three broad stages of recovery from abusive groups outlined by Dr. Paul Martin at Wellspring Treatment and Resource Center.
---
F.A.C.T.net.org has an excerpt, "Assessing the Damage", from our favorite cult recovery book, Captive Hearts, Captive Minds by Dr. Janja Lalich, who is a university professor, noted cult expert, and former cult member.
---
The article entitled "Repairing the Soul After a Cult Experience", by Janja Lalich, provides a definition of a cult which raises the question, "Was the assembly a cult?" The Assembly exploited our faith in the possibility of a better church and a better Christian life that was exploited.
---
The CAIC website has an article that is a clear, concise explanation of Leaving the Spiritually Abusive System - the Withdrawal Stages. Our guess is that nearly everyone who left the Assembly in 2003 or later is still going through withdrawals.
---
A former member and leader in the International Church of Christ has a good overview article on recovery "from unsatisfying, difficult, unhealthy or abusive church experiences". After several years out (for many former Assembly members) is there still a need for recovery information? Well, I hate to break the news, but time alone does not necessarily bring about complete healing from spiritual bullying and betrayal. The author of this article brings an engineer's logical and organized approach to the subject of recovery
---
Dr. Margaret T. Singer, former professor at UC Berkeley and possibly the world's foremost authority on cults, wrote an article on recovery called "Coming Out of Cults".
---
Post Cult Problems is a good article on Bill & Lorna Goldberg' website, in their "Articles" section. They have specialized for many years in counseling former cult members.
---
There is a common misconception that if a Christian has been involved in an aberrational group, all he needs for recovery is some good Bible teaching and warm Christian fellowship. Dr. Paul Martin, founder and director of Wellspring Retreat, wrote to correct this misunderstanding in Dispelling the Myths: The Psychological Consequences of Cultic Involvement. This article includes a section on "Seven Steps to Recovery." A Myth and Elements of Recovery are excerpts from this article.
---
A former member of the Legion of Christ details the difficulties of re-entering normal life. Don't be discouraged if some of the issues listed are still a problem for you years after leaving the Assembly. As the writer says at the end, "Patience!"
---
Joe Sperling posted a very insightful piece on phobias people have as a result of their Assembly experience. There is a blog post on Post-Assembly Musings on this topic, as well.
---
Setting proper boundaries and learning to say "No" are very important facets of recovery from an authoritarian system.
---
Dr. Ron Burks counseled us in 1997 at Wellspring Retreat and Resource Center, using a model from psychology to describe what goes wrong with personal interactions in a cult. A partial summary of Dr. Burks' material is found in "A Guide to Healthy Communication." Be sure to read the great article on ending the Drama Triangle linked at the end.
---
C. S. Lewis observes that the longing to be a part of the "inner circle" is one of the "great permanent mainsprings of human action". He warns that unless we take measures to prevent it, this desire is going to be one of the chief motives of our lives.
---
Cognitive distortions are errors in thinking. Everyone experiences these once while, but in the thought reform process they become firmly entrenched. This brief article lists 10 cognitive distortions, and says, "The good news is, like any habit, these patterns of thinking can be broken and discarded through awareness and practice."
---
Michael Spencer, the Internet Monk, wrote a piece on Group Loyalty which complements Tom Maddux's article, Misplaced Loyalty, and could help people avoid repeating the same mistake.
---
A Note to Abusers is an excerpt from the end of "Cult Survivors Handbook", by Nori J. Muster, a former ISKON member. She addresses this note to those who were not only victims in a high demand group, but who also perpetrated abuse on others. She gives some good ways tell if you were/are a perpetrator. One sign-- if you "negligently allow[ed] someone else to suffer abuse that you could have stopped." Muster observes that abusers need to honestly tell their story to others so they can benefit from the disapproving feedback and get out of denial.
---
Carol Giambolvo, of reFOCUS, now has a webpage with a good section on cult recovery. Coping With Triggers addresses an issue that most former Assembly members have to deal with at times. Carol is very knowledgeable cults and recovery. She and her husband were involved in est and The Hunger Project, and their daughter was a devotee of ISKON.
---
The Seven Steps of Transformative Empowerment Healing for the Fullest Possible Recovery from Abuse is written by a former Scientologist who is the founder of Factnet.org."
---
Gretchen W. passes along a link to an article by Dr. Bruce Perry about treating the children traumatized by the Waco disaster. At Wellspring, AK's and parents watch a video of Dr. Perry's presentation. One striking fact he brings out is that children in traumatic circumstances have a resting heart rate elevated above the normal 70-90 beats per minute. A Cornerstone science class demonstrated that the children had heart rates over 100 bpm.
---
This section deals with spiritual damage in relation to God, church, the Bible, and spiritual authority that arise out of abuses perpetrated in God's name. For information about Assembly teaching and doctrine, see the Biblical Perspectives and Assembly Teaching and Practice. Articles in the Biblical Perspectives section address recovery from an emphasis on performance in the Christian life.
---
Dave Sable, who left the Assembly in 1990, wrote A Healthy Assembly Afterlife to encourage folks leaving in 2003 that there is hope and life after the Assembly.
---
Jeff VanVonderen, co-author of The Subtle Power of Spiritual Abuse, was interviewed by STEPS magazine on the subject of spiritual abuse. He makes this statement about the difficulty of recovery:
"I think that recovery from spiritual abuse is in some ways the most difficult of recovery journeys. One reason is that the person who has the greatest potential for helping us recover from spiritual abuse is the Person we feel most alienated from....So in recovery from spiritual abuse it is really important to give ourselves room to have little bits of faith. And also to learn to pay attention to our spiritual radar and to reconnect with our sense of blessing—and with the God who gives us that sense of blessing."
That is hopeful! But he is pessimistic about recovery for the perpetrators of spiritual abuse. He says, "I am aware of the track record and of how difficult it is for spiritually abusive people to see what's real and to change that pattern."
---
Following the first "After the Cult" workshop sponsored by AFF (now ICSA) in 1994, Dr. Michael Langone wrote an insightful article, Reflections on Post Cult Recovery. He makes some very interesting observations and suggestions on the problem of trust, especially as it relates to God.
---
John Fischer's book, 12 Steps for the Recovering Pharisee (like me): Finding Grace to Live Unmasked, uses tongue-in-cheek 12-step model for recovery from the spiritually deadly disease of performance based righteousness and elitism. The medicine goes down smoothly with a healthy dose of humor. Here is Fischer's chart of how the 12 Steps apply.
---
Dave Sable contributed a quote from the AA book, Twelve Steps and Twelve Traditions, on getting input from others regarding guidance we feel we have received from God.
---
Excerpts from Studies in Perfectionism by B. B. Warfield makes it very clear that teaching like Georges are thoroughly permeated with the autocracy of the human will. It is simply not true that man "secures" the grace of God by an act of his will.
---
Michael Spencer has a great article called Wretched Urgency: The Grace of God or Hamsters on a Wheel? that might relieve you of a boatload of guilt if you are still living under the Assembly dogma that every encounter in life must be bought up as an opportunity to "witness." Who knew the Southern Baptists were so much like us?
---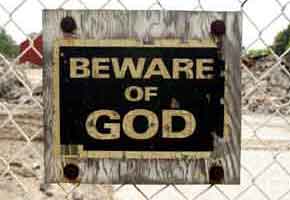 Seeing God in New Ways: Recovery from Distorted Images of God describes how both parents and churches can contribute to twisted views of God, and outlines some ways to recover. As has been pointed out elsewhere on this website and on the Assembly bulletin board, Assembly teaching and practice very much obscured a true concept of the character of God. The "Words of Grace" section of this site is intended to help clear away the distortions and focus on God's true character.
---
In Spiritual Brokenness in Recovery and If Your God Is Not God, Fire Him, Dale Ryan suggests that your image of God may be worse than distorted; it may be false. In which case, throw him out! And discover that the true God is very different.
---
A series of articles by Dale Ryan and Jeff VanVonderen is along the same lines. When Religion Goes Bad--Part I, Part II, Part III, also explores distorted images of God. The series is a little slow getting to the good stuff, but it's not very long--stick with it past the middle of Part II.
---
Who's Calling? is a humorous and very helpful approach to the subject of finding God's will. After covering most of the well-known "methods", the author gives three "Laws of Spiritual Discernment." He says, "Those so-called methods are just gimmicks — not ways of discerning God's will, but ways of avoiding discernment" [italics added].
---
Michael Spencer writes about how to approach reading the Bible in Magic Books, Grocery Lists and Silent Messiahs: How rightly approaching the Bible shapes the entire Christian Life. In the Assembly we did not "rightly approach" the Bible.
---
Michael Spencer also writes about abandoning the lifeline of "do this" preaching that promises some super spiritual result in one's life.
---
Mike Fehlauer, himself a survivor of an abusive church, encourages other survivors to take the risk of being part of a healthy church. He makes an interesting observation about healthy churches: "I believe a healthy church is off track about 80 percent of the time." Making the necessary corrections is what keeps a church healthy. The article is a brief excerpt from Mike's book, Exposing Spiritual Abuse: How to rediscover God's love when the church has let you down.
---
Ray C. Stedman, who was for many years pastor of the Peninsula Bible Church in Palo Alto, preached a message in 1976 on A Pastor's Authority, in which he defined the scriptural limits of pastoral authority. He expounds the Greek in Heb 13:17 and concludes, "...the clear thrust is that leaders are persuaders whose ability to persuade arises not from a smooth tongue or a dominant personality, but from a personal walk which evokes respect."
---
Brent T. describes the pharisaical spirit--an actor, appearing beautiful without, but actually filthy within.
---
Jeff VanVonderen has written an in-depth article entitled, "When You Are Ready To Try Again: Going Back To Church." He deals with the characteristics of hurtful churches and what he calls "grace-full churches." There is also a good section on learning to trust again.
---
In Chess Master, Philip Yancey says, "God brings victory even from our bad moves...When a Grand Master plays a chess amateur, victory is assured no matter how the board may look at any given moment." A comforting meditation on why evil is allowed to happen.
---
Lee Irons highlights two facets of his doctrinal recovery from Assembly teaching in this excerpt from an April 2007 tribute to a mentor, Dr. Meredith Kline.
---
Michael Spencer has a great riff on the righteousness of Christ, the topic of the second of Lee's two points (above). It ends, "Let me come to live out of, love out of, depend upon and die securely in the righteousness of Christ alone." Read it, it will comfort your soul and challenge any smug legalism or elitism that might still be lurking in the corners of your heart.
---
Tamilla P. shared this meditation about finding meaning in "being" rather than "having" and "doing" by Henri Nouwen from his book Out of Solitude.
---
This article on Helps to Spiritual Renewal may be way too premature for many FAM's (former Assembly members), given the phobias to the Bible, church, etc., but some who have been wandering in evangelicalism for awhile might give it a try. The best part of this article is Dave Sable's comment at the end.
---
In 1985 pastor Harold Bussell wrote an article entitled, Why Evangelicals Are Vulnerable to Cults, that addresses something which still plagues many people who have left the Assembly-- the hankering for something better, something more. He says, "Evangelicals are seldom drawn to cults because of beliefs or doctrine but because in one of these areas, the cults offer something more," i.e. an ideal church, an ideal pastor, an ideal spirituality, etc.
---
Len Hjalmarson has written an excellent article on Recovering From Church Abuse. He describes five general categories of people who leave abusive churches: Walk Outs, Kicked Outs, Burn Outs, Find Outs, and Counseled Outs. Most of those who left the Assemblies after G. Geftakys' excommunication in 2003 are "Find Outs." He says that the more "Find Outs" learn, the greater the healing.
---
Many people who have left the Assemblies are having trouble attending church. Alan Jamieson, a New Zealand sociologist, wrote a series of articles on "A Churchless Faith," which has been summarized on NextReformation.com. Jamieson concludes that churchless faith is in search of "turangawaewae"--a Maori word for a new place to belong, a new place to stand. The last article in Jamieson's series can be read online in its entirety in Reality Magazine.
---
Sharon Hilderbrant, M.A., has written an excellent article on Recovery From Spiritual Abuse, which is directed toward Christians who want to help the spiritually abused in their recovery. She suggests how to be helpful in eleven specific areas.
---
John Piper's small book on spiritual depression, When the Darkness Will Not Lift: Doing What We Can While We Wait for God--and for Joy, is available for online reading.
---
Forgiveness is a definite element in recovering from abuses suffered in the Assembly. Archbishop Desmond Tutu, who headed the South African Truth and Reconciliation Commision, is very clear about forgiving in this interview with Bill Moyers in 1999. Tutu has become my current hero of the faith. Fred Luskin, director and co-founder of the Stanford Forgiveness Project, has a different slant on the subject. He is quoted in an article, "The Challenge of Forgiveness", by Vesela Simic in Shift magazine:
Luskin...defines forgiveness as the ability to make peace with your own life by no longer arguing and objecting to the way it unfolds. "It means that difficult things happen in life, and first you have to grieve them, then accept them, and finally move on." According to Luskin, forgiveness does not require reconciliation, is not about forgetting, and does not condone an unkind act--rather, "Forgiveness means that unkindness stops with you." He also says that forgiveness is not a one-time response: "It's about becoming a forgiving person."
---
Couple Counseling in Violent Family Relationships offers some direct advice in cases of domestic violence. Any wife who has experienced even one incident of violence should take heed. The situation would have been very different for Judy G. if the Leading Brothers had known and followed these warnings.
---
In Christian Husbands, Warren Doud gives a perspective on how the husband's leadership should work, based on I Corinthians 13.
---
Mature Husbands and Fathers gives a good list of healthy characteristics.
---
A Real Marriage is excerpts from Chapter 7 of Families Where Grace Is in Place by Jeff VanVonderen (co-author of The Subtle Power of Spiritual Abuse). The first half is about Eph.5:18-21, a great exposition of being filled with the Spirit, which applies to everyone, not just marriage. "Paul is actually presenting a major concept that empowers us to live the Christian life."
---
The Internet Monk posted some "proverbs" he wrote for his son's wedding. Great, great advice on marriage! Here's an example: "The atmosphere in a marriage is a matter of small things done consistently in love, not large things done to make up for failures." Marriage, like everything else in the authoritarian legalistic group, was framed primarily--surprise!--in authoritarian terms. Get clear in your minds who is the Chief and who is the Indian. But when you really think about it, Jesus boiled the essentials down to something entirely different--love one another. And then he demonstrated what he was talking about by washing his disciples' feet. He did that, the true Lord and Master. The iMonk's proverbs translate that concept into practical terms.
---
Reformed philosopher and theologian John M. Frame has an interesting sermon on marriage from I Pet 3. Husbands, note especially the section on husbands living with their wives "according to knowledge." Someone has well said, "To love is to pay attention."
---
The Relationship Checklist is a tool for recognizing malignant narcissists with sociopathic characteristics. Sam Vaknin has two articles with additional insights on this topic from the perspective of narcissism: How to Spot an Abuser on Your First Date, and The Abuser's Body Language.
---
And here is the iMonk on parenting a young adult - it's time to quit being the manager or the coach, and become a fan.
---
Spencer's blog post on what to do when your child says he doesn't believe anymore is very thoughtful and balanced.
---
The Growing Kids God's Way and On Becoming Babywise programs developed by Gary and Anne Marie Ezzo were used to undergird Assembly teaching on children. The Ezzos were formerly very involved in John MacArthur's Grace Community Church where Gary was an elder. At some point, the elder board became alarmed at certain elements in their teaching and issued a public statement distancing the church from it. Grace Church now has a website devoted to the problems with the Ezzo program. In earlier years the Assembly used What the Bible Says about Child Training by Richard and Virginia Fugate. Here are some readers' comments on the Fugate program.
---
Emotional Deprivation Disorder was first identified by a Dutch psychiatrist in the 1950's. Dr. Terruwe found that a person could exhibit symptoms characteristic of an anxiety disorder as a result of a lack of unconditional love, authentic affirmation and emotional strengthening in early life. The child was criticized, ignored, neglected, abused, or emotionally rejected by primary caregivers, which resulted in stunted emotional growth. This is a key article for all Assembly parents.
---
Leona Furnari, LCSW, has written an excellent article, Born or Raised in High-Demand Groups: Developmental Considerations. One of the complicating factors is they have no "pre-cult identity" to go back to. Every AK and Assembly parent should read this!
---
The ICSA Journal has an article by Dr. Bruce Perry, "Stairway to Heaven: Treating Children in the Crosshairs of Trauma." Lest anyone think this wouldn't apply to Assembly children, think about this: Janet J. was teaching a seventh-grade unit on health at Cornerstone, during which the children were to measure their heart rates. The normal rate is 85 to 100 for children over six; every child in the class had a heart rate well over 100. The article states that an elevated heart rate is a common symptom of trauma. Wellspring has a video of Dr. Perry lecturing on this study; it is eye opening for AK's and their parents. Here is an overview of Dr. Perry's approach to treating children.
---
The Exit & Support Network, a website for former members of the Worldwide Church of God, has several articles on marriage--how the marriage relationship is twisted in the cult, and how to get it untwisted: Do Philadelphia Church of God Husbands Abuse Their Wives?, and Human Rights for Those in Intimate Relationships. Also Setting Boundaries and Learning to Say "No". **Caution: Some will object to the egalitarian philosophy of marriage proposed in these articles, arguing that it is not Biblical. There are arguments to be made on both sides of that issue, but practically speaking, Assembly women may experience great difficulty continuing to live in an authoritarian situation.
Two notes: 1) For those of who have problems with divorce, the phrase "the right to end the relationship" might be replaced with "the right to separate and seek safety", and 2) "The right to have friendships outside of the relationship" is very important. You need the support of friends, but close opposite-sex relationships usually cannot be tolerated. This bears on the already-problematic issue of difficulty with trust after a cult experience.
We do not agree with everything on this site, obviously - read with discernment.**
---
Reflections on Marriage and Children after the Cult draws out some of the causes of family problems stemming from involvement in a high-demand group, and shows how they can be tackled in counseling. Bill and Lorna Goldberg therapists who specialize in cult issues.
---
Michael Spencer had two amazing blog posts on marriage that he has since taken down, but they are available by request. Well worth the effort! One was "Living with My Wife: The Book", on how he was approaching a "rough patch" he and his wife were going through. Without saying so, what he was doing is an application of Eph 5:25. The other, "With Regrets, All My Love," was a public apology from the bottom of his soul to his family for what his ministry has cost them.
It is profoundly to be hoped that former Assembly Leading Brothers have made similar apologies to their families. They need to do likewise to the flock, including the hundreds and hundreds of readers of this website, and especially David G's family and the women ensnared by George.
---
The fact that David Geftakys' spousal abuse went undetected for many years raises concern that there may have been other men in the Assembly who were perpetrating domestic violence. The blog, Sanctuary for the Abused, has a wealth of information, resources, and links, and also checklists to help you assess whether your situation is abusive.
---
If you are being abused and your abuser shares the home computer, the safest way to search for information on the internet is from a different computer--at work, a friend's house, or a local library. If you must share here is how to clear your internet surfing history. You may also want to investigate setting up a secure email account.
---
An excerpt from a speech given by Dr. Marie Fortune shows what people need in order to recover from abuse and get on with life. It provides an appropriate model for healing in our circumstance. Some of us have experienced some of these elements of healing already to a certain extent. Our hope and our prayer that there will be a great effort on the part of former leaders to see these things experienced among us all.
---
Apologies for Spiritual Abuse are Required, based on the writing of Beverly Engel, lays out information and pointers on how to go about giving effective, healing apologies.
---
Dutch doctors at the University of Utrecht in the Netherlands have identified a type of grief called "complicated grief," which is significantly different from the normal grief experienced at a loss. Dr. Paul A. Bolen says, "People with complicated grief are basically stuck in a state of chronic grieving." This is the case for many Assembly people even now, several years after the disbanding of the Assemblies.
---
Wayne M., P.A., formerly from the Champaign Assembly, contribted this link that shows the analogy between how the body heal from injury and how the soul heals from pain.
---
Mark Campbell has written a number of very helpful and insightful responses on the Assembly bulletin board to questions and issues raised by the "wounded pilgrims" of the assemblies. Mark's purpose in writing is to help wounded pilgrims recover their faith and to go on to healthy and prosperous lives in Christ. We've reprinted some of his posts here in the form of letters to bring his ministry to the readers of this website as well. Mark uses the term "wounded pilgrim" to mean that as pilgrims having "sojourned" in the assembly we should learn the valuable lesson that there is a True Friend who will take care of us after having been wounded and left half-dead. See Joe Sperling's comment below.
On Feelings
Letter 1
– After all that's happened, is there
any encouragement?
Letter 2
– What's happened to my
joy?
On Being Human
Letter 3
– What is the "normal" Christian life? Is it okay to be
"human"?
On Assembly Teaching
Letter 4
– I am so confused. I feel like I'm just barely
holding on
to my faith in Christ.
Letter 5
– Was the assembly teaching on
the inheritance
true?
Letter 6
– It seems to me that George was "orthodox" in his view of salvation. He does say after all that we are saved by faith, not works.
What's up with that?
On Reading the Bible
Letter 7
– How can I recapture the joy of
reading my Bible
again?
Letter 8
– Is it alright to interpret the Bible
subjectively
?
Letter 9
– We were always seeking inner purity, preparing our hearts for God to speak to us. Isn't that
Eastern mysticism
?
Letter 10
– Is there any one single overriding
principle
that I can use to understand the Bible?
On Prayer
Letter 11
– What does it mean to have a
quiet time
, other than the assembly way?
Letter 12
– I don't seem to
know anything
anymore, including my understanding of the Bible and how to pray.
On Deception
Letter 13
– Who is
deceived
?
Letter 14
– Isn't it
better
to have "heart knowledge" rather than "head knowledge"?
On Abuse
Letter 15
– Can you
recommend a book
that will help me recognize when I'm being abused?
Letter 16
– "I'm
mad as heck
, and I'm not going to take it anymore!"
Letter 17
– Can the Assembly be called a
"cult"
?
On Being Honest
•
Letter 18
– As I think about my past attitudes and behavior in the assembly, I can't believe
how proud I was
.
On Grace
&nbsp
Letter 19
– I am such a
weak person
. I feel sometimes that I'm beyond God's grace.
Letter 20
– Can I change my life by availing myself of
God's grace
?
Letter 21
– Why do you say that the
"Sinner Woman"
in the Gospel accounts really understood grace?
On Spirituality
Letter 22
– How does the
Holy Spirit lead
us?
On Staying in the Assembly
Letter 23
– It's hard for me to give up the assembly because I've already
invested
a lot of time and energy in the assembly.
On Triggers
Letter 24
– When I heard the phrase, 'The elders would like to meet with you', I experienced a moment of
sheer terror
.
---
August 8, 2007, Joe Sperling posted this on the Assembly bulletin board: "I believe the "Wounded Pilgrims" thread has done a lot of good. And I'm sure no one denies that!!... Sometimes, the smallest thing can help one on the path to being free, and we never want to discount the value of one person to Jesus Christ. The Lord journeyed all the way across a lake to the Gadarenes to visit a man possessed by a demon just to free him. The Lord, through the BB and through the Wounded Pilgrims thread, has come to free and has freed souls from bondage.
Numbers aren't important---every soul is valuable to Him. That is actually one of the damaging aspects of the Assembly--there was so much talk about "corporate" identity, that many lost the belief in the extreme love the Lord has for each individual. I think that the Lord is out to bring back the wounded lambs, and part of that is definitely the Wounded Pilgrims thread."
---