Updates About Former Assembly Members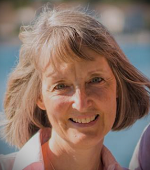 November, 2022 Shelley Evert died this month after battling cancer. She was originally from Omaha. She and Pat were involved in establishing the Maple Avenue Spanish-speaking church plant from EV Free in Fullerton.
~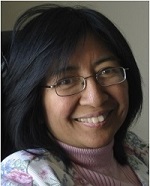 • September 16, 2022 Sadly, Arlene Johnson passed away unexpectedly a few days ago in Boise, ID. She was drinking coffee with a friend and suddenly couldn't breath. She never regained consciousness and passed a couple of hours later.
~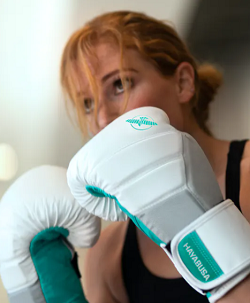 July 24, 2021 When Mary W. was seventeen she wrote an incredible poem about her traumatic Assembly childhood and how she experienced deliverance. Her life afterward was a difficult journey finding her way through even further traumas and pitfalls. Friends and family stuck with her, especially her mom, Gretchen, and helped her gather hope and determination. She changed her name to Andi and began a hard road to recovery. More of Andi's story is here. Andi speaks about it in this video. In May 2021 Andi graduated from Cal State Northridge with a degree in kinesiology.
~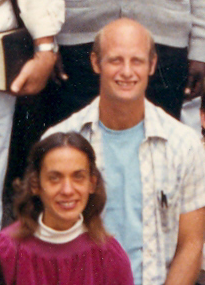 October 9, 2020 Jeanne Magnuson went to be with the Lord during another bout with thyroid cancer. She fought the cancer successfully for many years, beginning with the Gerson therapy. Gay (Mau) Walker and Betty soon followed suite on the Gerson and then freely implemented it among those of us who suffered from various mysterious illnesses and fatigue.
~
November 19, 2017 Trish Kanne Luckett, from the Fullerton Assembly during the 1970's, went on to become a ballet dancer. She sent links to two worship videos she took part in - Psalm 144 and this.
~


May 4, 2017 Daniel Teater, who grew up in the St. Louis Geftakys Assembly, was interviewed on a "Redemption Walk" podcast. He talks about how he came to see God differently and how he came to be a licensed counselor and Christian Conciliator. Daniel and his brother Mark will be taking over this website in the future. For now, Daniel is the contact person. He is president of Live at Peace Ministries. The blog posts counseling articles, especially on marriage. Daniel's wise observations on Twitter are a healing contrast to the Assembly mindset.
~
March 2, 2016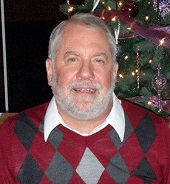 Bruce Barrett, from the Fullerton Assembly, went home to be with the Lord. His sister Becky posted this obituary on his Facebook page. Bruce and Laura were part of the Fullerton Assembly. For many years Bruce worked editing the tape transcriptions of George's seminars for publication. View comments about Bruce on 'The Geftakys Assembly' Facebook page.
~
August 12, 2015 Dennis Hittle, from the Fullerton Assembly, went to be with the Lord.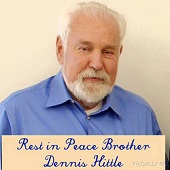 Dennis was a Vietnam veteran of the Air Force, and was buried with full military honors at the Riverside National Cemetary. His family published an obituary in the Early October edition of "The Fullerton Observer". (Scroll down to page 16.) Dennis was a gracious brother. Many shared fond memories of him on 'The Geftakys Assembly' Facebook page.
~
August 10, 2014 George Geftakys died.
~
October 28, 2014 Al Hartman went home to be with the Lord. Al died peacefully in his sleep at home In reynoldsburg, OH, where he and Cathy have lived for many years. Al and Cathy were among the original members of the Geftakys Assembly. They were part of the group meeting in Tom Maddux's home in the San Fernando Valley when George came along. They made the long commute to worship with the Fullerton Assembly before the SFV meeting was established. Al wrote several articles: "Learning What We Already Know: Thoughts on Psalm 23", "What's Happened to Us?", "Assemblyspeak", and the short story, "Assembly Love". He also shared his testimony from the time of his salvation, through his years in the Assembly and up to July, 2003.
~
June, 2011 Lee Irons was awarded a PhD in Theology from Fuller Theological Seminary. His dissertation, The Righteousness of God, was published in 2017. Lee also wrote A Syntax Guide for Readers of the New Testament in 2016. He contributed to The Son of God: Three Views and The Genesis Debate: Three Views on the Days of Creationin 2001. Lee also contributed 'The 70 Weeks of Daniel' chart in the ESV Study Bible.
~
April 10, 2011 David Michael Geftakys, son of Judy and David, is a singer/song writer, based in Los Angeles. Check out his music and website.
~
December 6, 2010 Stephen MCCumber, son of Jim and Brinda, from the Tuscola Assembly, went to be with the Lord following surgery for another brain tumor. He lived for thirty-five more years after his first inoperable brain tumor was diagnosed at the age of three in 1975. Brinda tells about Stephen's childhood in her account of the Geftakys ministry in Tuscola. Here is a note from Brinda about his passing. His obituary was published in the Champaign News Gazette.
~
January 4, 2010 Amy Russ Cahill, from the Huntington Beach Assembly 1989-1991, has written, performed and produced several pieces of music.
~
April 16th, 2009 Stephen Beniesau, a former Assembly member from Arcata, CA was walking with his wife Amy in the evening and was struck and killed by a vehicle. Please pray for the Beniesau family and everyone else who was affected by this tragedy.
~
March 2, 2009 Nancy Ann Teater, formerly of the Saint Louis Assembly, went to be with the Lord on February 27 following a long battle with chronic pain.
~
May 5, 2008, The Redlands Daily Facts newspaper reported on a multi-cultural festival at Plymouth Village, where George and Betty Geftakys live. George was still up to his old ways of misrepresenting the facts. He claimed he was a native of Greece and reportedly recited the Lord's prayer in Greek! There is an anonymous comment about this on the "George and Betty Geftakys" page.
~
January 21, 2008 Dave Mauldin posted this update: "I have just finished to the final interview of my Oral History Project on the Assembly. I feel extremely privileged to have obtained the current-member-leader interviews. As this material will be held in archives at Cal State Fullerton and be made available on request for research and possibly publication, I feel as if I have completed the most significant work of my life! While working on the interviews, both interviewer (myself) and narrator were amazed at the insights revealed in our discussions. Also the spontaneous laughter was priceless. I know now that research of this kind will be a big part of the rest of my life. A wish I have would be for current members and former members to be able to find some common ground to communicate on as I have on this project!"
~
May 2007 Ruth de Visser, daughter of Nelie and Simon de Visser of Middleburg, NL, went to be with the Lord after a long illness.
~
After retiring from teaching Tom Maddux got his M.A. in Christian Apologetics from the school of Professional Studies at Biola University. For a time he was an on-line instructor for the Reasons Institute, an arm of Dr. Hugh Ross's Reasons to Believe.
~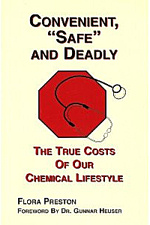 Flora, formerly of the Ottawa Assembly, has suffered from chemical sensitivity since at least age 13. She became completely disabled in 1987. She has written a book, Convenient, Safe and Deadly detailing the health impacts of our chemical lifestlye, which was published in 2006. Read her article, The Value of a Human Life, and visit her website, Health Risk Navigation, Inc.
~
David S. Kennedy passed away October 13, 2007. The Kennedys were in fellowship in the West LA Assembly prior to 2003.
~
Tamilla P. married Asela Perera; they reside in Hong Kong. She has written a book about her experiences, This Mysterious Love: Hard Lessons Learned by a Black Girl in China, and several other books. She contributed an excerpt from Henri Nouwen's book Out of Solitude, in which he makes the point that being is more important than having or doing.
~
Dr. Sunday Ochenjele's medical endeavors in Nigeria is profiled, and he explains his position vis a vis the Assembly. Wayne Mathews, Champaign, IL, talks about a missions project.
~

November 9, 2004,

Marine Lance Corporal Abraham Simpson, nineteen-year-old son of Jim and Maria Simpson, formerly of the Fullerton Assembly, was killed in action in Fallujah, Iraq. Abe had a strong Christian testimony, and wanted to serve his country in a good cause. In October, 2005, Maria Simpson found an essay Abe had written in his senior year of high school, which shows a turning point in his life.
~
Dan Buss, formerly of the St. Louis Assembly, was taken to glory in 2007. He left some last words for the saints.
~
Kathy C., who was involved in the Fullerton Assembly from its beginnings until the 1980's, wrote about finally finishing college in 2006.
~
Gretchen W. of Omaha wrote in 2004 about the steps their family has taken toward healing in the past year and presents a penetrating analysis of the former Omaha Assembly.
~
Joe D. wrote about getting involved in Pro-Life Ministries. "The goal of this article", he says, "is not to bash George Geftakys but to take a fresh look at a critical issue that may have been largely ignored by us in the past."
~
Joe Miller recounted his time in the Assembly, and why he left in 1991.